Facebook Management Company
Let us help you make use of Facebook's 750,000,000 users!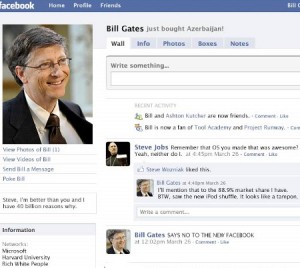 Did you know that some days Facebook gets more traffic than Google! Depending on the size of your company, some or a lot of the 750,000,000 million plus users are your current or potential customers.  Why don't you become social with them?  Our social media management company can be used as your Facebook management company at an affordable price.
What Makes our Facebook Management Different From the Rest?
We make the social media management experience unique to your company as well as interactive.
Here is what we can do for you.
We can….
Have an initial and monthly consultations
Consultations will also give you ideas on how you can grow you business making your experience with us better
Setup your Facebook page (including photos, videos, articles, landing pages and more).
Write 1 to 4 Facebook posts a day, 7 days a week.  More than this looks like spam.  We also make these posts eye catching with pictures, videos and links
Facebook monitoring (delete offensive posts)
Links to your website
Get current users to invite more users through contests provided by you (this is encouraged!)
Encouragement of advertisement spend (We will manage)
Possible replies to your posts
Facebook Marketing (Depending on your need)
Possible weekly detailed reports
If you want, we will also handle your Twitter for free with our

Facebook Management

services
Overall, we can get to know your company, inside and out.  We will help your company grow by keeping your customers connected via our Facebook management services.  Big or small, an 80's hair band to corporate 500 companies, we want to see you and your customers happy.
Facebook Business Page with Marketing
Many companies are looking for that special page to help drive more customers to their product or service.  We will do our best to market your page with great success.  Contact us today to help see your Facebook Business Page Grow!
Facebook Management Price
Prices start based on your needs.  We develop a plan that fits your company's needs as we are not a one size fits all company.
Give us a call or email with questions.  You will need to do the same if you want to get started.
We can  give you a price quote within 24 hours!


See example packages here.